12 Fishing and Family Boats You Can Tow With A Jeep Gladiator!
As a fishing or boating aficionado who owns a Gladiator, you're going to appreciate the direction this article is headed in.
The Jeep Gladiator is Jeep's flagship pickup truck/Jeep combo and it's completely capable of living up to your standards when it comes to towing large loads, including boats.
How Much Weight Can a Jeep Gladiator Tow?
The maximal towable weight for the Jeep Gladiator Sport with 8-speed auto is approximately 7,650 pounds, but some Gladiator models tow as little as 4,000 pounds.
Knowing how much your Gladiator can tow is not all you need to know, however. You also need to know which types of boats and specific models your Jeep Gladiator can actually tow.
What Types of Boats Can a Jeep Gladiator Tow?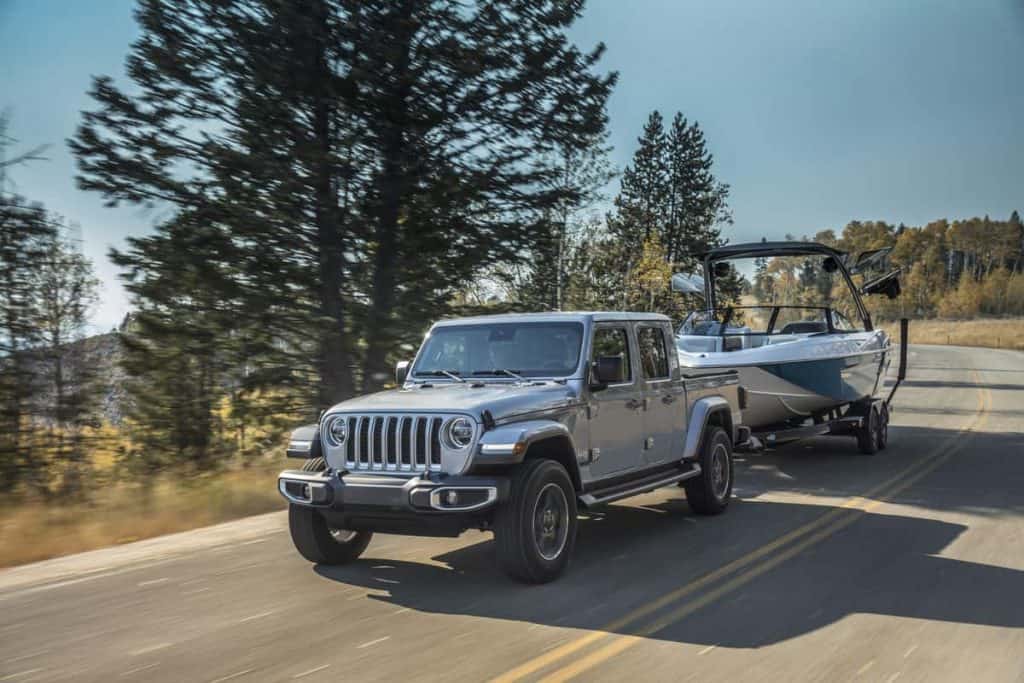 With a range of 4,000 to 7,650 pounds of towing capacity, your options are almost limitless when it comes to deciding what type of boat you're going to purchase.
Given the Gladiator's towing capacity, here are some types of boats that would be reasonable for the Gladiator to tow given the average dry weight of the boats:
PWCs – 850 pounds
Small Fishing Boat – 1,700 pounds
Deckboat/Pontoon – 3,100 pounds
Ski Boat – 3,500 pounds
The list above contains averages for each type of boat that the Gladiator may be able to tow. However, it's important to remember that not every model within these classifications will be of a towable weight for the Gladiator.
There is also the possibility that the Gladiator would be able to tow small speed boats (usually average about 8,000 pounds), but this is highly dependent on the actual weight of the watercraft and your specific Gladiator model.
Before you ultimately make a purchase decision, you need to consider the weight of a trailer and subtract this value from your Gladiator's towing capacity to determine the maximum boat weight your Jeep can handle.
PWCs
A personal watercraft, or PWC, is the most easily towable watercraft option given its smaller physical size and low weight. In fact, nearly all cars, SUVs, and pickup trucks can tow a PWC without issue. PWCs are also called water scooters, but are more commonly referred to as "Jet Skis." Here are a few personal watercrafts you could expect to tow with your Gladiator.
Sea-Doo Spark – 400 pounds
Sea-Doo RXP-X 260 – 812 pounds
Gibbs Sports Amphibians Quadski – 1,300 pounds
Small Fishing Boat
Small fishing boats are perhaps the most popular towable watercraft in America due to the country's love of fishing. Not only are these boats relatively lightweight, but you also have an almost limitless selection of small fishing boat models. These boats are ideal for spending days out on the lake or reservoir testing your luck at fishing. Here are a few small fishing boats you could expect to tow with your Gladiator.
195 Sportfish – 2,150 pounds
Boston Whaler 170 Montauk – 2,254 pounds
Stingray 212SC – 3,100 pounds
Deckboat/Pontoon
Pontoon boats are usually longer than the average small fishing boat and some models of pontoon boats are capable of seating about a dozen people. This type of boat is more commonly used as a party boat, in a sense, most often on lakes or ponds. Given the greater stability provided by these boats, these boats can also double as fishing boats. Here are a few deckboats/pontoon boats you could expect to tow with your Gladiator.
Sun Tracker Bass Buggy 16 DLX ET – 1,235 pounds
Tahoe Pontoon GT Cruise – 23′ – 2,150 pounds
Regency 230 LE3 Sport – 3,375 pounds
Ski Boat
Ski boats are a type of watercraft used to participate in watersports like water skiing, water tubing, and wake surfing. These boats are designed to achieve a higher speed, which condones these watersport activities. Here are a few ski boats you could expect to tow with your Gladiator.
Malibu TXi MO – 3,100 pounds
Centurion Enzo SV244 – 4,559 pounds
Tigé RZX3 2019 – 6,000 pounds
Small Speed Boat (Option)
Depending on the size and weight of the speed boat, your Jeep Gladiator just might be able to tow it down to the beach or lake without a problem. These motorboats are engine-powered and capable of reaching speeds as high as 50 knots and provide an exhilarating boating experience. It requires a little extra legwork on your part to locate a small speed boat that falls within your vehicle's towing capacity.
More Information
Having both the boat and vehicle to tow the boat are the most important parts of towing, but you need to make sure that your vehicle is fitted properly to be able to tow the boat to the best of its ability.
Towing Capacity
First and foremost, you need to make sure that the combination of your watercraft and the trailer you're using fit within your vehicle's towing capacity. For a Jeep Gladiator, that can be anywhere between 4,000 and 7,650 pounds. If you haven't yet purchased your Gladiator, but you already have a boat, you should select your Gladiator model based on your towing needs.
When it comes to your vehicle's towing capacity, you should make every effort to remain relatively below that limit. While your vehicle is entirely capable of meeting its towing capacity, towing large loads has the ability to put unnecessary strain on your vehicle's engine.
Choosing a boat that weighs less is better for your vehicle and is also much safer when considering transportation.
Setting it Up
To attach your vehicle to your trailer, you'll need some assistance from another person to simplify the process and guarantee success. The first step requires reversing your vehicle directly in front of your trailer in order to properly attach the hitch ball and hitch housing.
To provide further security while driving and guarantee the trailer will remain attached to your vehicle, you should use safety chains as well. You will also need to connect the lights to your trailer to alert those driving behind you when you're braking.
Driving
Now that your vehicle is an additional 800 to 7,000+ pounds, driving safely must be your top priority. With the added weight, it becomes more difficult for your vehicle to accelerate more quickly, but also significantly impairs your vehicle's ability to brake.
When driving your Jeep Gladiator while you're towing a large load, maintaining a proper following distance is, by far, the easiest way to guarantee safety for yourself, your watercraft, your vehicle, and everybody around you.
In addition to keeping your distance from others, you should also limit your speed in case of sudden braking, which would require your vehicle much more time to come to a complete stop.
When entering a highway or coming from a stop sign, you should keep in mind how long it will take your vehicle to accelerate to the speed limit of the road.
While you could easily merge between those two vehicles or cross a road in your Jeep Gladiator normally, you should hesitate and err on the side of caution when towing your boat.
Your driving will also be severely impacted by the physical size of the watercraft. Not only will you have to drive safely in terms of speed, but you also need to take into account the adjustments you'll have to make when it comes to steering and reversing.
With this added weight and potentially 20 extra feet added to the rear of your Gladiator, you'll need to take turns much wider to account for the boat's length.
It's also extremely difficult to constantly be aware of your trailer's surroundings, meaning the only time you should reverse your vehicle is with somebody else's guidance.
Closing Thoughts
In this article, we overviewed the towing capacity of the 2020 Jeep Gladiator, the types of boats your Gladiator can reasonably tow, and some general information on how to tow a boat.
At the end of the day, it's your call on what type of boat and model you purchase, but the most important thing you need to remember is to stay within your Gladiator's towing capacity.
If you're a proud Jeep Gladiator owner and are interested in learning even more about the vehicle and its towing capacity, here is an article we previously wrote about those topics.
However, if you're in a situation where you currently own a boat, but you're looking for a vehicle to tow it, here is a guide to finding the perfect Jeep Gladiator model for your personal and towing needs.
**This article was first published over at fourwheeltrends.com and has been shared here on Best Boat Report as part of our series on vehicle towing capacity!
Towing Capacity: What Boats Can a Jeep Gladiator Tow? [12 Examples]